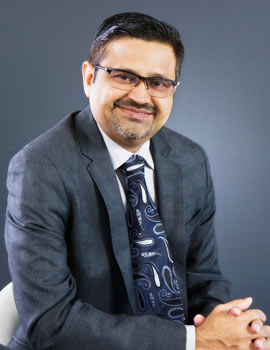 Dr Prakash Kamath (dentist) is a well accomplished, adept clinician with substantial experience, having special interest in Oral Surgery. Dr Prakash Kamath (Dentist) completed his 5 year Bachelor of Dental Surgery degree in 1997 graduating with Deans Award for the best outgoing student. His prime interest in Oral and MaxilloFacial surgery resulted in joining full time Master of Dental Surgery program in Oral and Maxillo facial surgery (India). Since then he has been practising general dental and oral surgery in India, Nepal, Kuwait and Melbourne over the last 20 Years.
His love and dedication to give the best to his patients led him to further qualify the member of Faculty of dental surgery, Royal College of Physicians and Surgeons (Glasg) MFDS RCPS ( Glasg) and has kept himself up to date with numerous continuous dental education programmes in all aspects of dentistry. He has undergone residency programme in Lisbon, Portugal under the Pioneer of most sought after ALL On Four Implant treatment by The Paulo Malo himself.
Dr Prakash Kamath (Dentist) places immense emphasis on evidence based high quality dentistry.. With his scientific background, an artistic eye and extensive experience, he brings the highest quality of personalized care to each of his patients. He approach is caring, gentle and is highly efficient, as testified by his numerous patients. He strives to make dental and surgical treatment as special and pleasant as it can be. Whether to young or old, he listens to the needs and concerns of individual patients and maintains a professional working relationship allowing patients to discuss in confidence about their dental problems.
He has helped a huge number of his patients to overcome extreme anxiety and fear with his skilful and patient approach. Also proficient with the use of Happy gas sedation and provides other modalities such as the sleep dentistry for the patients who experience extreme phobia towards dental treatment.
His philanthropic nature has led him to volunteer in innumerable dental camps for the underprivileged in India and Nepal. The British Gorkha society felicitated him for his service to the community on numerous occasions.
His passion in Implant Dentistry and Wisdom teeth surgery, has led him to be highly sought after in these fields.
Qualifications
Bachelor of Dental Surgery (1997) (India),
Master of Dental Surgery (2001) (India),
Australian Dental Council 2013(General Dentist) (Melb)
Memberships
Australian Dental Association (Victoria)
Australian Dental Council (General Dentist )
Association of Oral and Maxillofacial Surgery of India
International Association of Oral and Maxillofacial Surgery
International Congress of Oral Implantologists.
Australian Society of Implant Dentistry